Um, Salma Hayek Is Serving With Strong Abs & Legs In These Naked Dress Pics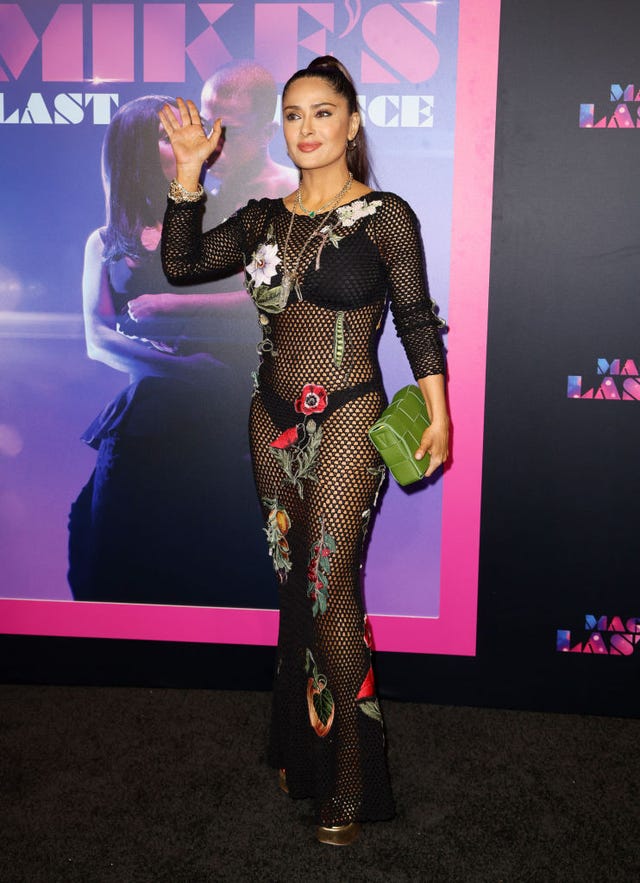 #fitgirl #womenshealth #girlswholift #fitness #fitmom
Salma Hayek just hit the red carpet for the premiere of the new Magic Mike film in a totally see-through dress.
The actress, 56, took the moment to show off how incredibly strong she is in the sheer dress, from her abs to her legs.
Salma takes a balanced approach to her diet, and she likes to stay moving however she can.
---
Salma Hayek is a force to be reckoned with, and she does not mess around. Case in point: Salma dominated the red carpet this week in a naked dress that showed everyone just how strong she is.
The 56-year-old actress attended the premiere of Magic Mike's Last Dance in Miami, Florida, and she definitely brought the heat. For the event, Salma opted for a see-through naked dress that was made of mesh with pretty floral embroidery. Underneath, she wore a matching black bra and undies set, showing off her totally strong, toned core and legs. Salma is, in a word, incredibly chic.
Here's a peek at the outfit, in case you wanted to catch her serving on the red carpet:
Salma is all about working smarter, not harder, when it comes to fitness. And while she hasn't shared much about her workout routines lately, she has previously talked about how she works her muscles and improves her posture while going about her daily tasks.
In an old interview with People, Salma said while she respects people with the discipline to squeeze in a quick HIIT session before work, that wasn't in the cards for her back then. "I don't have time to exercise, I am working," she said. "I've had some 20-hour days."
Instead, she has found ways to stay moving all day long. "I work with a woman in London who taught me how to hold my body in a way where the muscles are activated all day long,' she told People. "So even when you brush your teeth, you're working the muscles."
Salma does like to have fun, though, as evidenced by this trampoline outing:
And here she is living it up on a yacht in a stunning purple bikini:
When it comes to her nutrition, Salma likes to keep things relaxed. "I don't like to diet, and I'm not good at it," Hayek told the New York Times back in 2017. So, instead of restricting herself, she eats a balanced diet full of nutritious foods, and other dishes that simply feed her soul…like this superb-looking ice cream.
And this body positive queen told Entertainment Weekly that she has no plans to stop posting bikini and swimsuit photos. "I'm glad I took a lot of pictures, I have no shame on it, because it was the first week of the vacation," she said, adding that she finds posting the photos "liberating."
It's all about balance, and Salma seems to be crushing it.
Download the Slim Fitness app for more -> slimfitnessapp.com/download