Serena Williams Slays The Red Carpet With Her Killer Legs In These Pics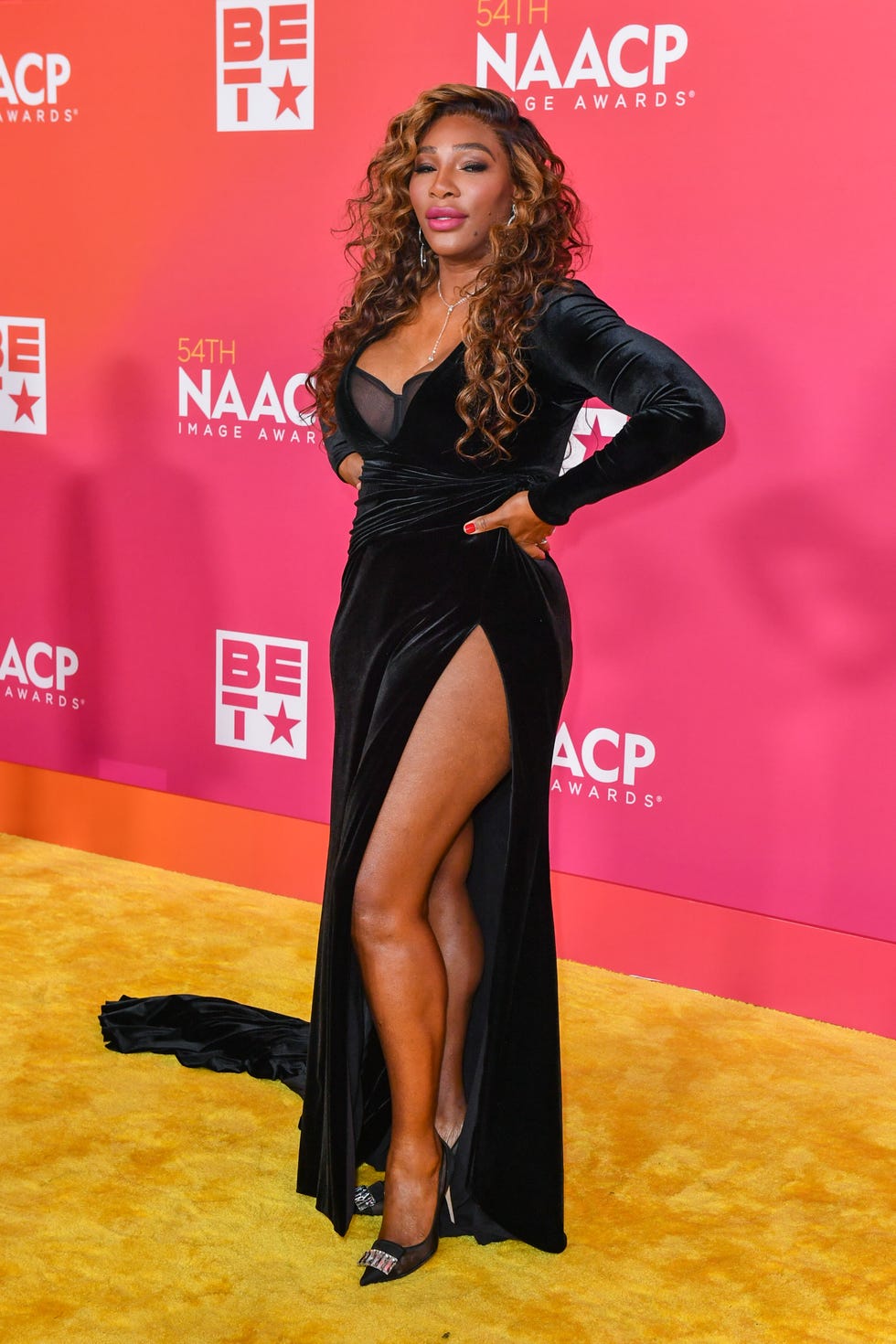 #fitgirl #womenshealth #girlswholift #fitness #fitmom
Serena Williams just hit the red carpet at the NAACP Image Awards and her look has everyone's jaws scraping the floor.
The tennis star, 41, donned a super high-slit gown for the event, showing off her killer legs in some fashionable heels in photos.
When she's not on the courts, Serena loves using Tonal workout equipment and dancing for her cardio.
---
Serena Williams has always been able to seamlessly transition from the Queen of the Tennis Courts, to the Red Carpet Royalty flawlessly. And based on her latest leg-bearing moment at the NAACP Image Awards, I'd say she's still bringing her A-game in 2023.
In pics from the event, Serena, 41, rocked a formfitting, black velvet gown, with a plunging neckline that showed off a sheer bodice and bra underneath. The dress is a custom Brandon Blackwood design and I'm living for it. The glamorous black dress also featured a hip-high slit that showed off Serena's epically strong legs. And the whole thing was accessorized with her big curls, some silver jewelry and red nails.
Here's the amazing look, in case you missed it IRL:
In September, the tennis GOAT shared in an exclusive Vogue interview that she planned to step back from the court to dedicate more time to her family.
"I have never liked the word retirement," Serena shared. "It doesn't feel like a modern word to me. I've been thinking of this as a transition, but I want to be sensitive about how I use that word, which means something very specific and important to a community of people. Maybe the best word to describe what I'm up to is evolution. I'm here to tell you that I'm evolving away from tennis toward other things that are important to me."
I, for one, love seeing Serena out and about, enjoying more free time and trying out some super glamorous looks. Of course, this legend is still as strong and sculpted as ever.
This content is imported from poll. You may be able to find the same content in another format, or you may be able to find more information, at their web site.
Serena is clearly no stranger to working hard. The tennis star shared in her MasterClass that her training gets especially intense at the beginning of the season.
"I train very hard. I almost break my body down," she said. "That way, when I start, I'm ready for anything and I'm ready for it to last for about eight to nine months in the season. Somewhere in the middle of the season, I have another intense training session."
Serena also tries to play tennis for four hours or more. "I've never in my life played a match for four hours or more," she said. "And I figure if I can last that long in a match, then I'll be able to last any time, period."
When she's not on the court, she does lots of running and biking to help build her stamina, according to her MasterClass, and she even uses the Tonal home workout equipment, (BTW, she's an investor). And Serena is certainly no stranger to some cardio dance moves, either!
"I also started dancing, because after running for 20 minutes or 30 minutes, I just get bored," she said. "And with dancing, you still are able to condition itself, but you can have a lot of fun while doing it."
I truly love this workout plan. Looking forward to the next red carpet you slay next, Serena!
Jacqueline Tempera is an award-winning writer and reporter living in New Jersey with her many pets. She is a business owner and a double Scorpio who loves all things astrology and reality television. She is passionate about body diversity and representation, mental health, and the fight to end sexual assault and harassment. To learn more about Jackie, follow her on Instagram @jacktemp or visit her website at jackietempera.com. 
Download the Slim Fitness app for more -> slimfitnessapp.com/download