Women's Sports Uniforms Aren't Designed With Periods In Mind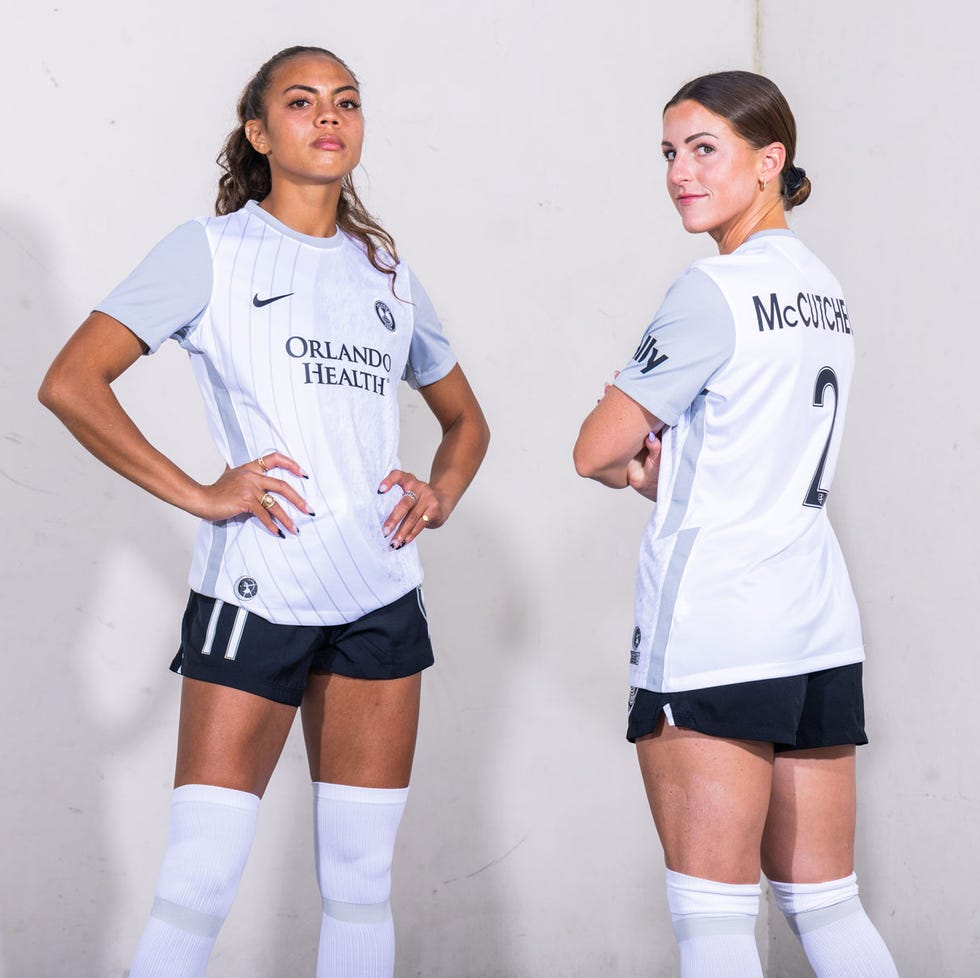 #fitgirl #womenshealth #girlswholift #fitness #fitmom
Few things will cause an athlete more stress on game day than sporting a white uniform during their period. Nobody wants to be distracted by the
fear of spotting when they're trying to compete.
Thankfully, more teams are recognizing that a simple switch to dark shorts can solve a lot of problems. In fact, the Orlando Pride announced on Tuesday that it will become the first National Women's Soccer League organization to change the color of its away-uniform shorts from white to black, removing one common worry from players' plates.
This seemingly small change will have a big impact for players who menstruate.
"When you alleviate the stress around that week [of your period], you're improving the performance environment," says Haley Carter, the Pride's general manager and vice president of soccer operations. "But also, it normalizes conversations around periods and how menstruation can influence athlete performance and how, culturally, we can navigate those conversations with our players."
The Pride's decision was inspired by Manchester City's move in October 2022, the first Women's Soccer League club to alter their uniforms for the same reason. The issue also came to the forefront at the Wimbledon Tennis Championship, which mandates that all competitors wear white. Officials have since eased the rules, now allowing players to wear dark-colored shorts underneath their white shorts or skirts, as long as they don't exceed the length of their outer layer.
Carter, a retired professional soccer player and former assistant coach for the Afghanistan Women's National Team, recalls the stress white uniforms caused her as a teen.
"I remember being on my period and thinking about what happens if I'm in a game and how absolutely mortifying [it would be], especially as a teenager," she says. "It was a very real concern…we should be able to eliminate that stressor."
Marta Vieira da Silva, who plays forward for the Pride, says that even as a pro, she still has days when her period distracts her while playing. "I try to not let this affect my performance and try to do my best, but I still had a bit of anxiousness about an incident happening," she wrote in an email.
Periods have been a taboo topic in athletics for as long as menstruating players have been competing.
Title IX may be 50 years old, but organizations are still largely led by men, many of whom have no idea how physically and emotionally uncomfortable periods can be—or why light-colored bottoms present so many potential problems.
As more women move into decision-making roles at the top levels of sport, more of them are encouraging conversations about reproductive health and its influence on training and competing. The color of a uniform may seem like a small change, but it's one that cracks open a larger discussion at every level. "If we're not comfortable talking about our issues and educating men on the issues that influence us, it puts us in a difficult position to make change," Carter says.
The Pride's decision will carry over to the entire Orlando City Youth Soccer Network, too, allowing players to trade in light-colored kits for darker versions. According to the Women's Sport Foundation, girls start dropping out of sports by age 14 at twice the rate of boys. The onset of puberty (and performance plateaus that can come with it) are some factors that may discourage them from sticking with sports—and helping girls feel more comfortable on their periods could make a difference. At the very least, it's important for girls and women to know that their needs are being considered by team leadership—that sports are for them, and their uniforms reflect that.
Prioritizing movement while menstruating is one of the best ways to ease symptoms.
Dr. Christine Greves, who is the Pride's OBGYN, talks to athletes about the importance of staying active during their periods, even if they don't feel like it. "If you continue exercising during your period, it can increase the endorphins that can help tackle the discomfort," says Dr. Greves. She believes that changing uniforms will only increase the likelihood that girls will feel like they can work out when they're menstruating. They'll also be less embarrassed about asking questions about their cycle and start to consider it as part of the equation in training for their sports, she says.
"This change will affect not only the young girls positively, but us as well," says Marta, who adds that it will help players shut out noise and focus their energy on the game. The Pride hopes this move will lead to a domino effect that will impact women's soccer teams at all levels in the US, as well as other women's sports, says Carter.
Normalizing periods for athletes is crucial to supporting their health long-term.
Athletes have always had complicated relationships with their periods. Increases in estrogen that occur through the menstrual cycle may loosen ligaments and tendons, making injuries like ACL tears more likely, and having your period can simply make you feel more fatigued. In athletes who are over-training and under-fueling, a common issue for women and girls (up to 45 percent of female athletes have experienced an eating disorder, according to some studies), periods can vanish. This is one symptom of a condition known as relative energy deficiency in sport (RED-S), which can deteriorate bone health and increase the likelihood of fractures, per a study in the European Journal of Nutrition.
Athletes should feel comfortable talking about how menstruation influences their training loads, injuries, and performance. Bringing up concerns about their periods and general reproductive health to their team leadership shouldn't be awkward. And something as simple as raising awareness about the meaning of a uniform change could make discussions about periods feel easier and more welcomed in the sports world, and potentially even increase interest in research around periods and athletic performance, says Carter.
"It's refreshing to be in an organization that is so forward thinking and comfortable recognizing the importance of having women in power to make these decisions. We're at a place where I think more women are contributing to the conversation…we have a seat at the table to talk about the issues that impact us," Carter says. "We're talking about white shorts here, but there are all of these other aspects to this. It's in recognition of all these other efforts to…normalize making sports more accessible to women."
Download the Slim Fitness app for more -> slimfitnessapp.com/download