Julianne Hough Is Living It Up In A Bikini With Epic Abs In IG Vacay Pics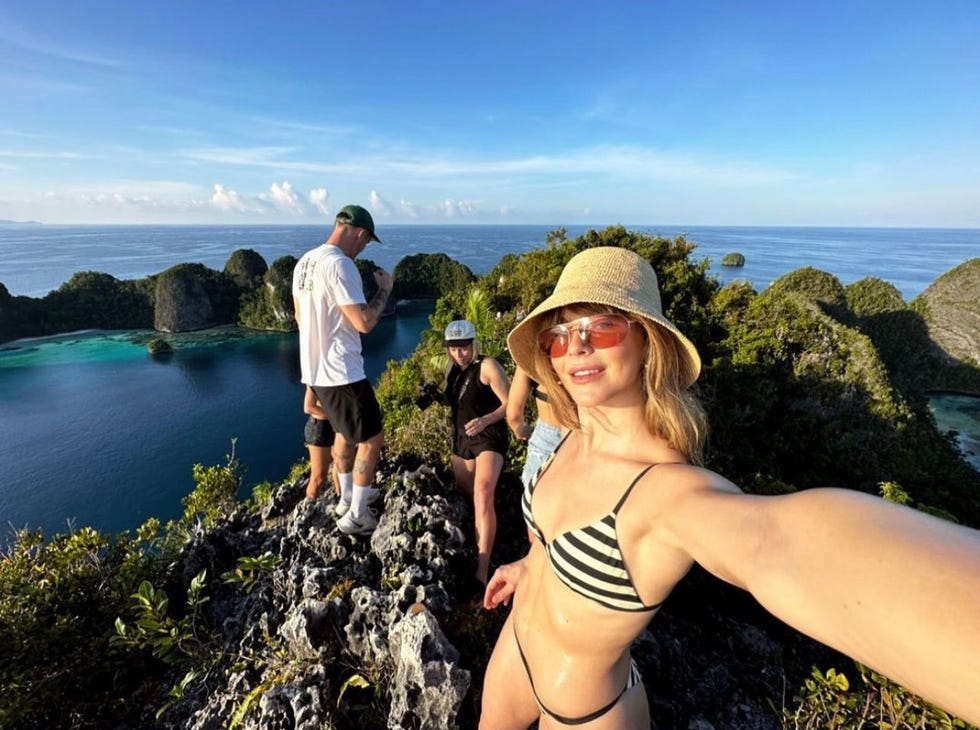 #fitgirl #womenshealth #girlswholift #fitness #fitmom
Julianne Hough just dropped some new photos on her IG story of herself on vacation in Indonesia with bestie Nina Dobrev, and it looks spectacular.
In various pics on her IG Story, Jules shows off her epic abs and legs in a striped bikini.
Julianne usually opts for a hike, fun cycle classes, or a quick dance sesh to get her sweat on.
---
It's still the dead of winter, but Julianne Hough is living it up on a boat somewhere sunny right now, and she's sharing the evidence on Instagram. The actress, 34, is currently on vacation in Indonesia with her bestie Nina Dobrev and friends, and she's definitely soaking up the sun in a black-and-white striped bikini.
She's been sharing the details of her trip on her Instagram Story, and the photo dump included pics from a seriously tough uphill hike and lots of beach content. Oh, and she got busy showing off her total six-pack abs and toned booty and arms, because why not? Jules even fit in a morning yoga workout on the boat before scuba diving.
If you missed out on her epic abs moment, fear not. Here's the evidence, straight from Instagram:
And here she is rocking her abs on the beach:
It's clear that Jules is a fitness queen. She told Us Weekly that she makes it a habit to get her body moving everyday. "Working out and staying healthy is part of my daily routine," she shared. "I move my body every day doing a variety of workouts."
She is also the founder of fitness platform Kinrgy. "It's a high-sensory activated dance method," Julianne told Women's Health. "We open up our senses, so we open up our imagination and connect to nature's elements."
She also likes to hit the gym, and shared one of her grueling workouts last year with her trainer Mark Harari. The session included everything from weighted lunges, to deadlifts, chest presses, and cardio.
And she also likes to take group classes, like SoulCycle and hot power fusion yoga at CorePower Yoga. "I love being around people and community," she told Women's Health.
She also likes to stay active outdoors the entire year, and is a big fan of snowboarding.
She also is obsessed with hiking, and showed off an amazing hiking adventure she took back in September 2022 on Instagram in Fiuggi, Italy.
On the diet front, Julianne's daily nutritional intake is packed with foods that fight inflammation, including grilled chicken, salmon, and grilled or steamed vegetables. She also shared exactly what she eats in a day with PEOPLE, which included green juice, protein smoothies and salad.
"I try to cut myself some slack if I'm being consistent with my nutrition and activity," she told the mag. "If I am craving a piece of chocolate I go for something dark to satisfy the craving."
This content is imported from poll. You may be able to find the same content in another format, or you may be able to find more information, at their web site.
BTW, Julianne is also a total foodie. "I love tacos and guacamole," she told Women's Health. "I love food!" And another one of her fave foods? French fries.
And she's also obsessed with coffee.
I love it, Jules! You go, girl.
Emily Shiffer is a former digital web producer for Men's Health and Prevention, and is currently a freelancer writer specializing in health, weight loss, and fitness. She is currently based in Pennsylvania and loves all things antiques, cilantro, and American history.
Download the Slim Fitness app for more -> slimfitnessapp.com/download