Simone Biles Slays With Her Mega-Toned Booty In A Bikini In Bach Trip Pics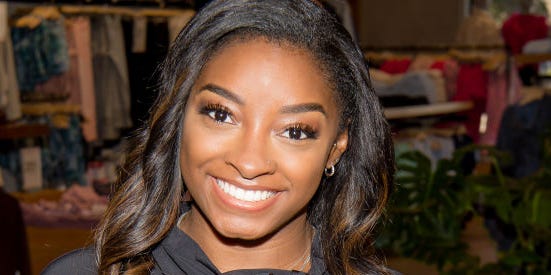 #fitgirl #womenshealth #girlswholift #fitness #fitmom
Simone Biles is celebrating her last 'hurrah' before becoming Mrs. Simone Biles Owens, and she's got the pics to prove it.
In several posts on Instagram, the Olympic gymnast showed off her totally toned butt and abs in various cut-out swimsuits and bikinis during her bachelorette trip.
Simone hasn't shared much about her workout routine in recent years, but she has said she takes a balanced approach to her diet.
---
Is anyone else having major FOMO right now because they didn't score the invite to
Simone Biles's bachelorette party? The Olympic gymnast is living it up in Belize as she celebrates her upcoming wedding, and it seems like she is stronger and happier than ever.
"Wife of the party," Simone captioned this snap from Belize. In the pics, the Olympian was wearing a white bikini (naturally, she is a bride-to-be, after all) with an adorable white bow on her booty, which highlighted how strong she is these days.
She shared another snap of her leaning against a palm tree wearing adorable custom jeans that read "Mrs. Owens" across the back, a tribute to her soon-to-be hubby and football player Jonathan Owens.
Jonathan commented on one of the photo dumps, writing, "Counting down the days 🤞🏽❤️" which is simply adorable. In fact, Jonathan also said that Simone was his "match made in heaven" in an interview with Texas Monthly. "There's no better person for me. She loves me, she's so affectionate. I just love that. And it's just intoxicating seeing how much work she puts into everything." I'm obsessed with these two.
Simone shared another abs-bearing shot from her bach, and holy moly, someone ask this gal what her core routine is these days. She rocked a brown, cut-out one-piece, and a white purse as she posed by her hotel's impressive pool.
Obviously, Simone trains hard, and she's got the Olympic gold medals to prove it. Unfortunately, the star hasn't shared a ton about her current health and workout plan, but before heading to the Olympics a few years ago, she did give people a peek into her intense routines.
"I train seven hours a day, I do have Sundays off," she told Jimmy Fallon in an appearance ahead of the Olympic games. "So, Monday, Tuesday, Wednesday, Friday I train twice a day. And then Thursday and Saturday I train once a day."
When it comes to her diet, Simone listens to her body. "I do not track anything," she told Women's Health. "I eat what I feel good with and try not to overeat or stuff myself because I'm always at the gym."
This content is imported from poll. You may be able to find the same content in another format, or you may be able to find more information, at their web site.
Breakfast is usually oatmeal or fruit, but she doesn't drink coffee. Then, after a workout, she loves to have a Core Power Protein Shake, and lunch can be anything from pepperoni pizza to salmon to sushi (with some veggies thrown in, too!). Simone often opts to eat out for dinner, or she'll have some fettuccine Alfredo with chicken.
I, for one, am also counting down the days until the wedding, Simone. Congratulations!
Jacqueline Tempera is an award-winning writer and reporter living in New Jersey with her many pets. She is a business owner and a double Scorpio who loves all things astrology and reality television. She is passionate about body diversity and representation, mental health, and the fight to end sexual assault and harassment. To learn more about Jackie, follow her on Instagram @jacktemp or visit her website at jackietempera.com. 
Download the Slim Fitness app for more -> slimfitnessapp.com/download