Olivia Wilde Is A Total Slay Flaunting Her Abs In A Sports Bra Pic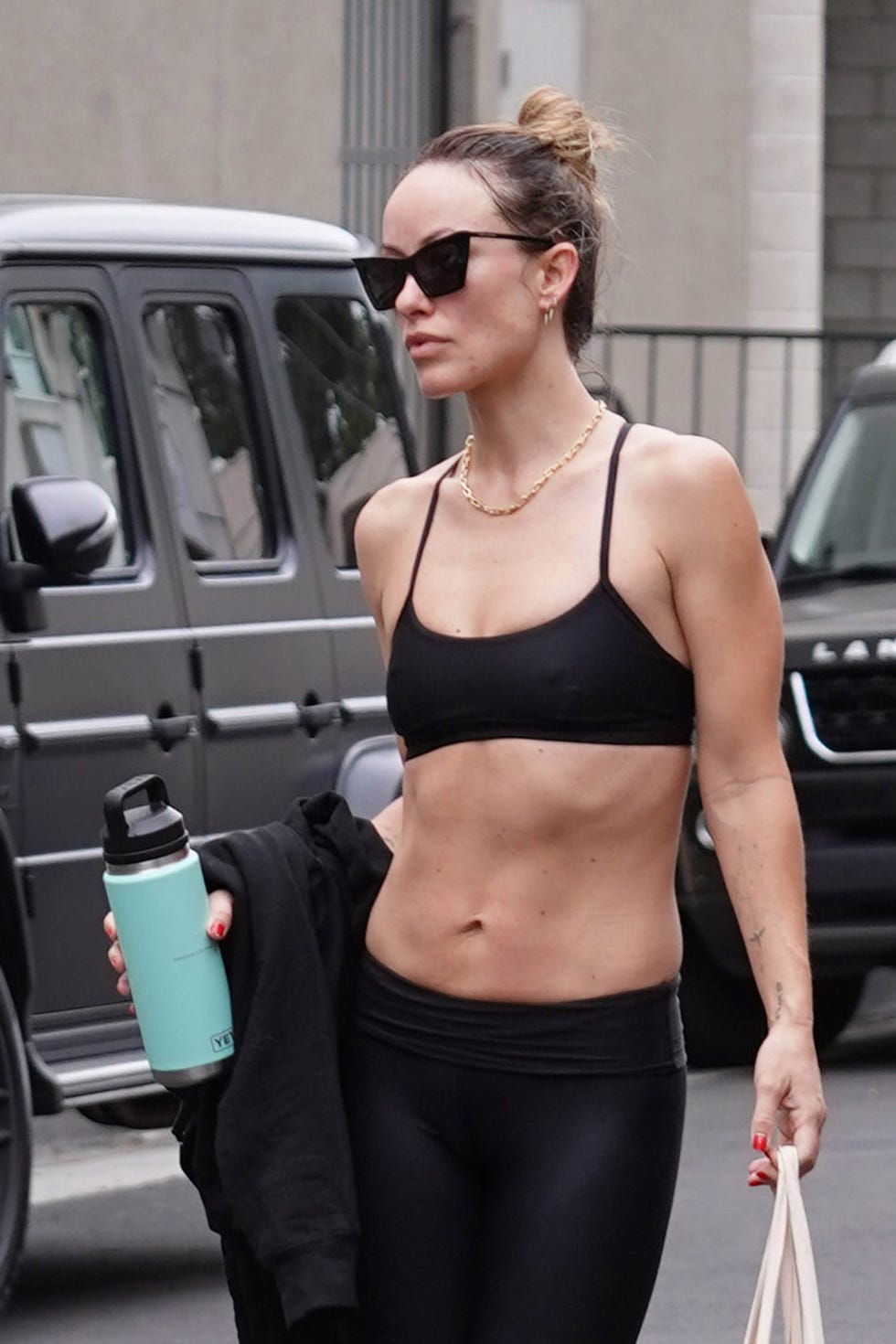 #fitgirl #womenshealth #girlswholift #fitness #fitmom
Paparazzi just caught

Olivia Wilde leaving a hard workout in only a sports bra and leggings.

This isn't the first time the actress has been captured on her way to and from a sweat sesh.
Olivia's toned abs were on full display in the photos, which only makes sense considering her super-active lifestyle.
---
Is it hot in here, or is it just Olivia Wilde leaving the gym? Paparazzi snapped a photo of the actress with sweat-drenched hair after what was probably a really tough workout, and if there's one thing that's clear, it's that Olivia is absolutely glowing and super-strong in the pics.
The cameras caught the director and actress rocking a black sports bra, low-rise black leggings, and a glamorous pair of sunglasses as she strutted out of her sweat sesh. This is truly some great inspo for Sweaty Girl Summer. The 38-year-old actress clearly isn't messing around, and her toned arms, abs, and legs are here to prove it.
Here's the shot, in case you haven't seen it yet:
Being strong AF (in all respects) seems to be a goal for Olivia. She talked a little bit about her views with Elle, saying "a few of the things I have in development are about the raw determination of women…clearly, I idolize women who survive a system that they feel challenged by." I'm definitely looking forward to checking those projects out, but in the meantime… You might be wondering what this actress does to get so dang toned. Well, Women's Health has some answers on that front.
First of all, Olivia doesn't have a super strict regimen, she told CNBC, but she does love to jog and go for walks. "When you have an option to walk or take a car, walk if it's an option. I'll take the stairs." She added: "There's often a way to [be active]. Rather than sitting at home and taking a call and doing a phone meeting, walk around. You could often incorporate activity into your life." Love this practical approach!
But if the paparazzi photos are any indication, Olivia does generally fit in a daily sweat. There are tons of snaps of her heading to and from the gym. The Daily Mail even took some shots of Olivia when she was out on a run in London last year. Olivia previously shared with Women's Health that spin classes are in the mix, too. "I make fun of it, but it's amazing, because you have to push yourself through this resistance, which is so therapeutic," she said.
It's not just about physical health, though. Olivia is sure to care for her mind, as well as her body. In fact, she has tried Transcendental Meditation and told CNBC she hopes to get better with the practice, which is known to calm the nervous system.
This content is imported from poll. You may be able to find the same content in another format, or you may be able to find more information, at their web site.
Olivia definitely looks fresh and dewy in her latest snap, which could definitely be thanks, in part, to her skincare routine. FWIW, the actress enjoys double-cleansing, which means she uses two cleansers to remove makeup and clean the skin underneath. Usually, people start with an oil-based product to dissolve makeup, followed by a cream or gel cleanser to get the skin nice and fresh, Olivia shared in an IG story.
Love to see Olivia taking care of herself! You go, girl!
Jacqueline Tempera is an award-winning writer and reporter living in New Jersey with her many pets. She is a business owner and a double Scorpio who loves all things astrology and reality television. She is passionate about body diversity and representation, mental health, and the fight to end sexual assault and harassment. To learn more about Jackie, follow her on Instagram @jacktemp or visit her website at jackietempera.com. 
(Original story posted by Women's Health)
Download the Slim Fitness app for more -> slimfitnessapp.com/download