Maitreyi Ramakrishnan Is A Total Slay With Toned AF Abs In A Cut-Out Dress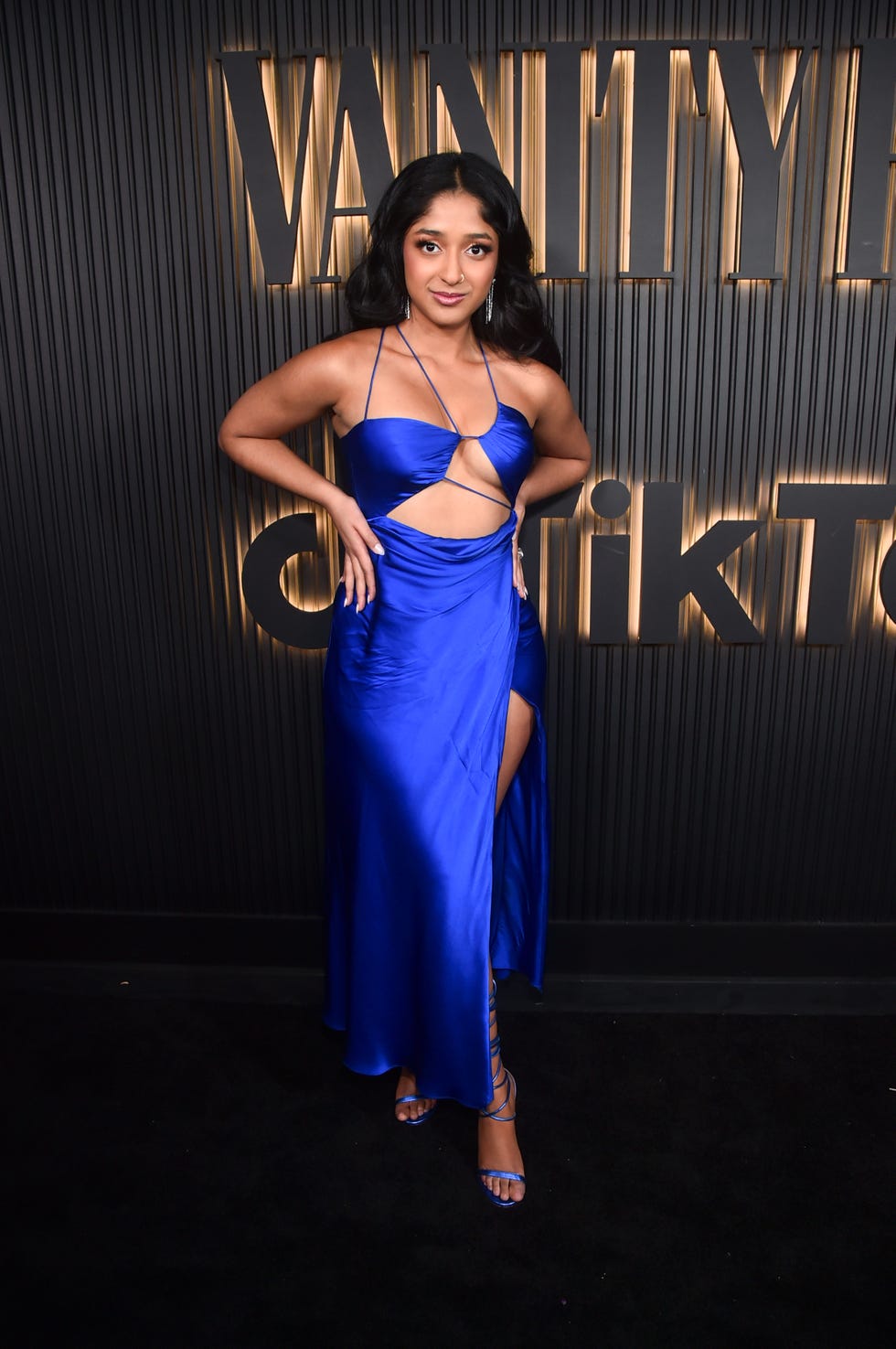 #fitgirl #womenshealth #girlswholift #fitness #fitmom
Maitreyi Ramakrishnan totally stunned on the Vanity Fair x TikTok party red carpet this week.
In photos from the event, the Never Have I Ever actress' toned abs and sculpted legs were on full display in a cut-out, high-slit gown.
Maitreyi hasn't shared much about her workout routines, but she certainly loves to dance.
---
Never has Maitreyi Ramakrishnan ever looked this amazing on a
red carpet. At least, not that I've ever seen. Can I get a pulse check on Paxton Hall-Yoshida?
Maitreyi, 21, stunned while taking photos for Vanity Fair and TikTok's "Night for Young Hollywood," which took place on March 8, blowing everyone away in what looks like a blue, silk, cut-out dress. The dress is held up by just a few strings hanging around her neck, with a major cutout between the top and bottom, revealing her toned abs and a bit of underboob.
The skirt of the dress has a large slit, looking to end somewhere near her upper thigh, revealing a peek of her strong legs. (Can I just say her arms looked toned AF, too?!) But she had every detail of this outfit planned to a tee: her blue strappy heels match the dress's color perfectly.
Maitreyi is only 21, and she practices her self-care and wellness routines the way she wants to—meaning, it's not an exact science for her. While she hasn't shared much about the way she gets her exercise in, it's clear that she loves to fit in some active time during the day through dancing. In 2021, she posted a BTS pic from dance rehearsal with Never Have I Ever co-star Richa Shukla Moorjani, who plays Devi's beautiful cousin, Kamala, on the show.
She even took this video dancing with Richa, which Richa actually choreographed herself!
In terms of food, Maitreyi loves mangoes, and is always putting them in her smoothies and salads. BTW, she loves adding croutons into her salads, too, because they're "the most non-vegetable part," she told Bustle in 2021. (I felt that!)
In the morning and at night, she opts for tea over coffee. "Jasmine green tea is my favorite—I'll take it with a little bit of milk," she told the outlet. "The best form it comes in though is bubble tea."
Specifically, she loves Tazo's Energize blend, a brand she partnered with in 2020. "I'm a night owl and tend to get a lot of my best and most creative work done after midnight, so that helps me with that process," she told SELF the same year.
This content is imported from poll. You may be able to find the same content in another format, or you may be able to find more information, at their web site.
Sounds delicious. You go, Maitreyi!
Addison Aloian (she/her) is an editorial assistant at Women's Health. When she's not writing about all things pop culture, health, beauty, and fashion, she loves hitting leg day at the gym, shopping at Trader Joe's, and watching whichever hockey game is on TV. Her work has also appeared in Allure, StyleCaster, L'Officiel USA, V Magazine, and Modern Luxury Media. 
Download the Slim Fitness app for more -> slimfitnessapp.com/download