Halsey Slays With Sculpted Abs In A Nipple-Baring Dress In Pics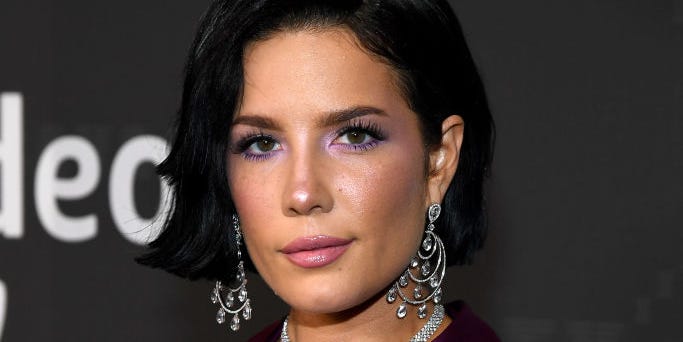 #fitgirl #womenshealth #girlswholift #fitness #fitmom
Halsey showed up to Paris Fashion Week rocking a totally see-through, nipple-baring dress.
In photos from the fancy event, the singer flaunted their super strong body, from their abs to their legs.
Halsey has struggled with numerous health issues, but still takes time for fun outdoor activities.
---
Halsey has officially cemented their place in the free-the-nipple movement, rocking a totally chic look as they walked in Paris Fashion Week this week in a stunning black gown.
Halsey, who uses she/they pronouns, posed in a black sheer dress by Pressiat in Paris. The curve-hugging dress featured paw prints, super sheer fabric, and slits that showed off Halsey's super-toned abs. The singer also rocked a dark smokey eye, a cool hairdo, and spiked jewelry for a real punk rock runway moment.
"I walked PFW for the first time today with @pressiat_ and it was terrifying and amazing!!!! Thank you Vincent for having me, and congratulations to you and team on such a stunning collection and iconic show! 🐾 special thanks to @lynalyson_ and blonde slay by @themartyharper and pics by @samdameshek," Halsey captioned a collection of photos from the show.
People loved the 28-year-old singer's look, from the peek of toned abs to her strong nipple-baring moment, and voiced their thoughts in the comments section of the post. One enthusiastic fan wrote, "SINGER SONGWRITER PAINTER MOM MAKEUP ARTIST BRAND OWNER WRITER MODEL THERE'S NOTHING SHE CAN'T DO THAT'S FOR SURE ! 💋❤️." And it's hard to disagree with that.
When it comes to Halsey's health and wellness, the singer makes sure their body is in good shape, as they struggle with endometriosis and autoimmune issues that impact their diet and exercise. Halsey shared they were diagnosed with Ehlers-Danlos syndrome, a group of disorders which affects connective tissues, bones, blood vessels, and many other organs, according to Medline Plus.
Halsey has also been a champion for others struggling with endometriosis, a painful condition where uterine cells grow outside of the uterus rather than inside of it, according to Mayo Clinic.
When they are feeling well enough, though, Halsey is definitely a big adventure person. The singer takes their workouts outdoors with unconventional activities like…naked rock climbing. Certainly not for the faint of heart. "Don't go rock climbing naked. or do. do you," Halsey captioned a photo from the escapade.
On the food front, Halsey hasn't shared a ton about specific foods they enjoy, but the singer has also shared that they developed many new allergies after giving birth to their first son, Ender, in 2021.
"A lot of you guys have been wondering what's going on with my health, and some of you saw a TikTok yesterday basically confirming that I'm allergic to literally everything," Halsey shared on IG stories in May, per CNN. The singer has been hospitalized several times for anaphylaxis since giving birth to Ender.
This content is imported from twitter. You may be able to find the same content in another format, or you may be able to find more information, at their web site.
Here's to hoping for a healthy and happy year for Halsey as they continue to absolutely slay!
Jacqueline Tempera is an award-winning writer and reporter living in New Jersey with her many pets. She is a business owner and a double Scorpio who loves all things astrology and reality television. She is passionate about body diversity and representation, mental health, and the fight to end sexual assault and harassment. To learn more about Jackie, follow her on Instagram @jacktemp or visit her website at jackietempera.com. 
Download the Slim Fitness app for more -> slimfitnessapp.com/download