Florence Pugh Has Toned Abs For Days In A Bra Top In These Oscars Photos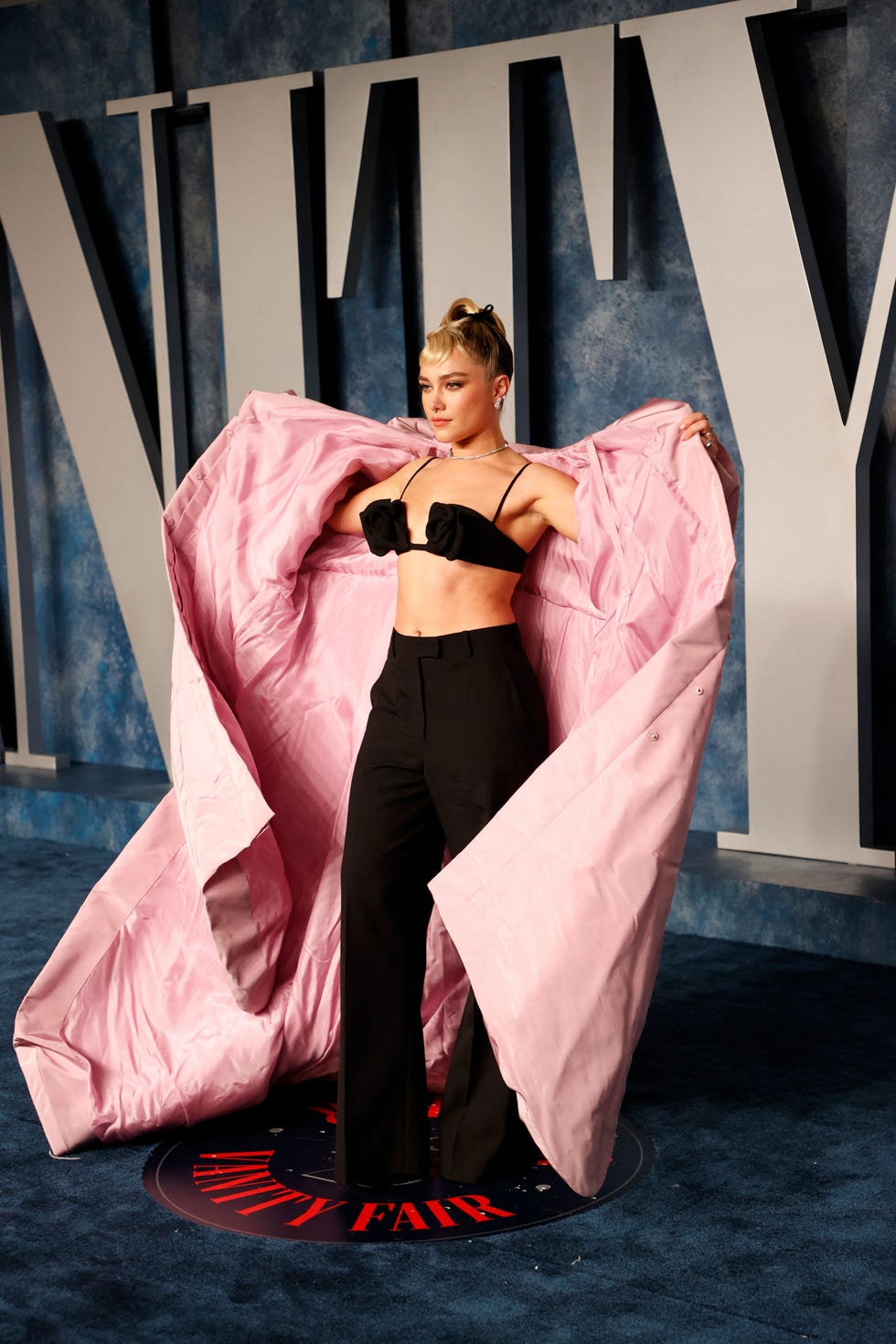 #fitgirl #womenshealth #girlswholift #fitness #fitmom
Florence Pugh just hit up the 2023 Oscars in two looks that were as breathtaking as they were strong.
The actress, 27, showed up in shorts and heels, flaunting her epic legs, and later changed into a bra top that highlighted her sculpted abs.
Flo loves doing her own stunts and has done CrossFit just to make sure she nails them.
---
Florence Pugh knows how to have a verifiable red-carpet moment. And the Don't Worry Darling star proved just that with her stunning Oscars fashion.
Florence, 27, served up two stellar looks for Oscars night. After presenting on stage, she attended Vanity Fair's afterparty in a pair of black tailored pants and a matching bra top that showed off the star's super-toned abs. She paired the look with an epic pink cape that was simply perfection.
As if that weren't enough, Florence wore a Valentino Couture gown on the red carpet for the award show and got busy showing off her strong legs in a pair of tiny booty shorts beneath the gown. No wardrobe malfunctions here!
Here she is showing off those strong legs again:
If you're wondering what Florence does to stay so fit, I've got the scoop. For starters, the star likes to work out at home, as shown in this funny Instagram post showing her yoga mat, a kettlebell, and her pet dog and chicken. "I was ambushed," she captioned the picture.
Looks like a pretty nice way to get a workout in if you ask me!
Florence also picks up little tips and tricks from her acting roles. For example, she did all her own stunts in the Marvel movies she has appeared in, including Black Widow. "I really enjoy stunts," she told Glamour UK. "I wanted to do as many stunts, so straight away, I learnt kickboxing and knife training."
Flo also picked up CrossFit in 2019 when she was playing WWE Diva Paige, in Fighting with My Family. "For me, the most interesting thing at the beginning was learning what's a good position and what's a bad position," she told the CrossFit blog. "Obviously, that is what wrestling is all about. You need to move the correct way in order to keep yourself safe and the person you're wrestling safe."
Flo is known to cause a stir with her bold fashion choices, mostly because she is all about body positivity. Of course, she isn't afraid to bite back at critics of her free-the-nipple moments, either.
When she got backlash for wearing this stunning pink Valentino dress, she penned a poignant IG caption to the haters.
"I'm very grateful that I grew up in a household with very strong, powerful, curvy women. We were raised to find power in the creases of our body. To be loud about being comfortable. It has always been my mission in this industry to say 'f**k it and f**k that' whenever anyone expects my body to morph into an opinion of what's hot or sexually attractive," she wrote in the caption.
This content is imported from poll. You may be able to find the same content in another format, or you may be able to find more information, at their web site.
She added, "Grow up. Respect people. Respect bodies. Respect all women. Respect humans. Life will get a whole lot easier, I promise."
Florence is my hero!
Jacqueline Tempera is an award-winning writer and reporter living in New Jersey with her many pets. She is a business owner and a double Scorpio who loves all things astrology and reality television. She is passionate about body diversity and representation, mental health, and the fight to end sexual assault and harassment. To learn more about Jackie, follow her on Instagram @jacktemp or visit her website at jackietempera.com. 
Download the Slim Fitness app for more -> slimfitnessapp.com/download