Empowering Arm Workouts for Women: Sculpting Strength at home
While it's common for women to associate arm workouts with immense muscle growth and a bulky physique, this couldn't be further from the truth. Arm workouts are not just about aesthetics, but also about building functional strength and fostering a holistic sense of empowerment. Exercising the arms can bring significant benefits, including increased flexibility, enhanced posture, and improved overall fitness levels. In this blog post, we'll explore a variety of arm workouts tailored specifically for women, emphasizing toning, definition, and strength without compromising femininity.
1. Push-ups:
Push-ups are a fantastic full-body exercise that primarily targets the chest, shoulders, and triceps. Start with modified push-ups on your knees and gradually progress to full push-ups as your level of strength increases. Incorporate this exercise into your arm workout routine to improve upper body strength, grasp greater core stability, and fortify your biceps and triceps.
2. Tricep Dips:
Tricep dips can easily be performed at home using a sturdy chair or a bench, making them an accessible arm workout for women. Sit on the edge of the chair, gripping the seat with your hands shoulder-width apart. Extend your legs and lower your body down, bending your elbows to a 90-degree angle. Pushing yourself up, engage your triceps to return to the starting position. These dips effectively target the back of the arms, lending them a defined and toned appearance.
3. Bicep Curls: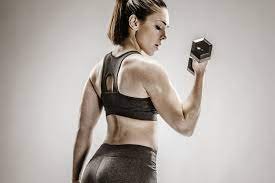 Bicep curls are a quintessential exercise for sculpting beautifully toned arms. Using dumbbells or household objects like water bottles, hold the weights with an underhand grip, palms facing upward. Slowly curl one arm at a time towards your shoulder, keeping your elbows stationary. As you progress, increase the weights gradually for continuous challenge and improvement. Performing bicep curls regularly will strengthen your biceps, contributing to well-shaped and defined arms.
4. Tricep Extensions:
Tricep extensions are a versatile exercise that works the back of the arms. Stand with your feet shoulder-width apart, holding a dumbbell or any weighted object overhead with both hands. Bend your elbows to lower the weight behind your head, keeping your upper arms stationary. Straighten your arms, bringing the weight back up overhead to the starting position. Tricep extensions help banish the infamous "bat wings" and provide tighter, toned muscles.
5. Plank Rotation with Arm Lift:
This exercise combines arm strength with core stability. Start in a high plank position with your palms flat on the ground directly underneath your shoulders. Slowly rotate your body to the right, lifting your right arm towards the ceiling. Return to the starting position and repeat on the opposite side. The plank rotation with arm lift engages your shoulders, arms, and core, providing an excellent full-body workout.
Incorporating arm workouts into your fitness routine can yield transformative results. Rather than focusing solely on achieving a certain appearance, prioritize building functional strength, boosting self-confidence, and embracing the incredible capabilities of your body. By consistently following these arm workouts, you can not only achieve well-toned, shapely arms but also feel empowered and strong in your own skin. Remember, strength knows no gender, and you have the power to create a body that embodies both power and femininity. So go ahead, pick up those weights and elevate your arm workout regime with the Slim Fitness app today!