Elizabeth Hurley's Chiseled Abs Are *Chef's Kiss* In This Bikini IG Photo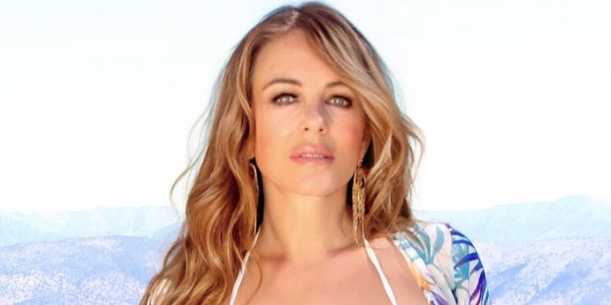 #fitgirl #womenshealth #girlswholift #fitness #fitmom
Elizabeth Hurley just dropped some new photos on Instagram showing off her strong body in a little, white, string bikini.
The 57-year-old actress got busy showing off her super toned abs and sculpted legs in the bikini, and her friends and fans were all about it.
Elizabeth is taking extra time for her self-care lately, and she to get moving in her garden.
---
Everyone knows that Elizabeth Hurley loves to rock a bikini, and it seems she doesn't plan on slowing her roll any time soon. The 57-year-old Austin Powers actress dropped some photos on Instagram showing off a new robe from her swimwear line, but I'm pretty sure everyone was distracted by her glowing, happy complexion, super-toned abs and sculpted legs. Elizabeth is strong and healthy as ever!
"Lo! A wondrous new robe from @elizabethhurleybeach, The Parrot Robe. V limited edition www.elizabethhurley.com 💗💗💗💗💗," Elizabeth captioned the photos. And while the Parrot Robe is indeed lovely, it was hard to miss how totally strong Ms. Hurley is these days.
The picture was popular with Liz's friends, too, who jumped in the comments to give the actress love. They left more fire emojis than I can possible count.
If you're wondering how Elizabeth stays so strong and looks so glowy, you're in luck. The star sat down with Women's Health this winter to talk all things wellness recently and provided the deets on her daily routines.
First thing to know? She's really into self-care and has been since she was a kid. She credits her mother with teaching her effective ways to manage stress.
"[My mother] used to call her bathtub her think tank. And when she finally got us all into bed, she used to always retire into the bath. And I think I've just copied her," she said. "A candle and lovely oil in the bath. I take about 20 minutes to close my eyes and take it easy before I get out of the bath and start learning my lines or whatever I have to do."
Since Liz is so busy, she loves something called "found fitness"—which basically means fitting in moments of activity into her regular routine. Think: Squats while doing laundry, taking the stairs… You get the idea.
Liz's fitness regimen starts as soon as she opens her eyes. She previously told WH that she does quick squats while she brushing her teeth to tone her legs and butt. Then, she takes her dogs for 20-minute walks first thing in the morning to get her heart rate up.
Her favorite way to move, though, is gardening, which is an activity she can do all year round. ICYMI, Liz loves logging and raking leaves. (Yes, you heard that right!)
"I do as much outside during the winter as I do during the summer," she told WH. And, she feels super satisfied after a good yard work moment: "Not only do I feel, well, actually exhausted, but also I feel that I've got the leaves up, which is also a nice thing." Basically: "I'd rather do housework than go to the gym," she says. "I'd rather scrub a mirror—it does just as much."
This content is imported from poll. You may be able to find the same content in another format, or you may be able to find more information, at their web site.
On the food front, Elizabeth keeps it natural. "I like simple, natural, easy food. I don't really like food with a lot of chemicals or additives," she told The Cut. "When I'm at home in the country, I always try and eat food that's grown locally. That goes for meats and vegetables."
Keep inspiring us all, Liz!
Jacqueline Tempera is an award-winning writer and reporter living in New Jersey with her many pets. She is a business owner and a double Scorpio who loves all things astrology and reality television. She is passionate about body diversity and representation, mental health, and the fight to end sexual assault and harassment. To learn more about Jackie, follow her on Instagram @jacktemp or visit her website at jackietempera.com. 
Download the Slim Fitness app for more -> slimfitnessapp.com/download