Elizabeth Hurley Slays With Sculpted Abs In A Cropped Sweater On IG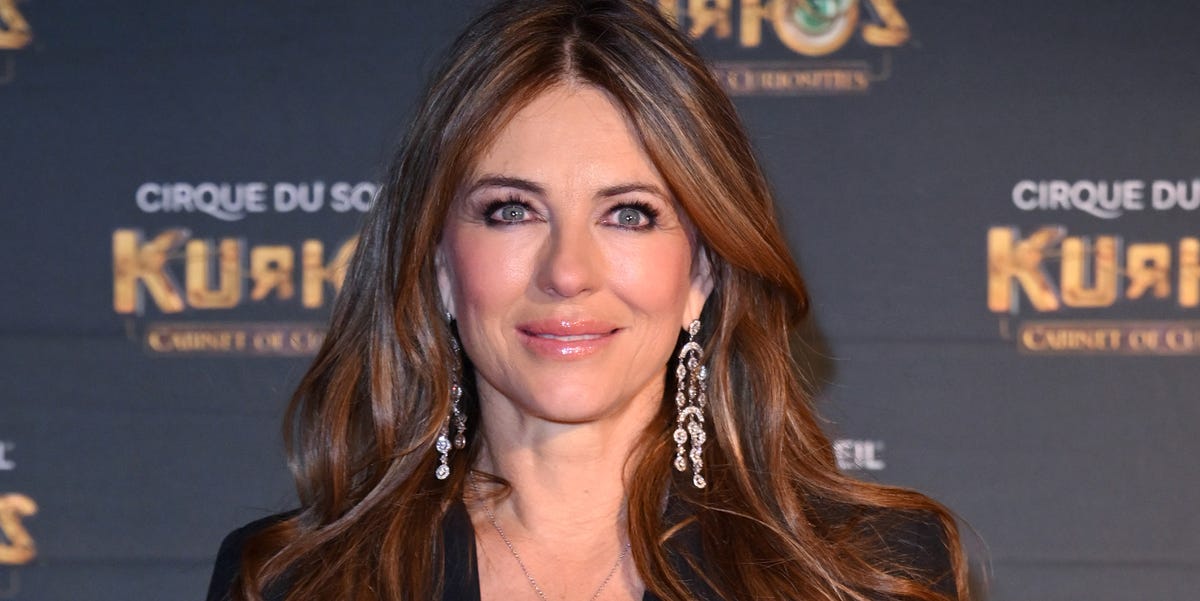 #fitgirl #womenshealth #girlswholift #fitness #fitmom
Elizabeth Hurley just dropped a cute photo montage on Instagram in honor of her friend's birthday, and in one pic, she is rocking a cropped sweater set.

In the photo, Liz's abs are beyond sculpted as she poses with her friend.
The actress is all about staying active in her day-to-day life, and likes to get some of that movement in while gardening.
---
While it might *technically* be springtime now, it's not quite bikini weather. It makes sense, then, that Elizabeth Hurley just dropped some photos on Instagram that are a major plot twist: she's not wearing her usual string bikini.
Instead, the 57-year-old actress and swimwear designer rocked a chic, cropped sweater top and skirt set as she celebrated her friend's birthday. And can I just say—this woman never misses when it comes to a fashion statement. Liz is effortlessly beautiful and super strong, per usual.
"Happy Birthday @thepatrickcox Thank you for making the world a better place for 60 years. Thank you for being a brilliant friend. I ❤️❤️❤️❤️ you xxx," Liz wrote in the caption.
People filled the comments section with birthday wishes for Patrick and, of course, praise for Queen Liz. "Gorgeous," wrote one fan. Another added, "Forever young Liz. Eternity beauty.👌👌👌🌹🌹🙋‍♀️" And Liz is seriously glowing, so I agree with the people.
If you're curious to know more about Liz's health and wellness routines (and how she works on those toned abs), you should know that her biggest health hack is that she stays super active in her daily life.
Case in point: She's a fan of found fitness. If you haven't heard of this method before, it's basically pairing movement with things you'd usually do in the course of your day. That might mean doing squats while you brush your teeth or an impromptu dance party while making the bed. Liz told Women's Health this helps her make sure she gets her heart rate up throughout her busy days.
Liz also loves getting outdoors. If you follow her on IG you already know this, but Liz always seems to be frolicking around on the beach!
Here she is playing with a balloon…
And showing off her fitness gains like the strong queen she is in the Maldives.
Elizabeth is also sure to make sure she gets lots of exercise in with her adorable pup.
When it comes to her diet, Liz makes sure she starts her day with a nutritious meal. "I like things like an omelet, or I like avocado on toast or some tomatoes," she told Us Weekly back in 2019. "I always have something for breakfast."
This content is imported from poll. You may be able to find the same content in another format, or you may be able to find more information, at their web site.
Clearly, whatever Liz is doing is working. YGG!
Jacqueline Tempera is an award-winning writer and reporter living in New Jersey with her many pets. She is a business owner and a double Scorpio who loves all things astrology and reality television. She is passionate about body diversity and representation, mental health, and the fight to end sexual assault and harassment. To learn more about Jackie, follow her on Instagram @jacktemp or visit her website at jackietempera.com. 
Download the Slim Fitness app for more -> slimfitnessapp.com/download