Donna D'Errico Channels 'Baywatch' In Underboob-Baring Bday Swimsuit Pic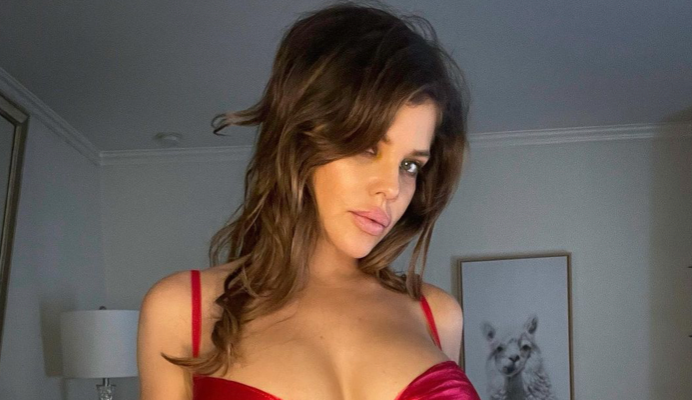 #fitgirl #womenshealth #girlswholift #fitness #fitmom
Birthday wishes are in order for former Baywatch star,Donna D'Errico.
The actress celebrated her 55th birthday with a totally sculpted Instagram photo of herself that shows off her abs and underboob in a Baywatch-inspired swimsuit and cropped shirt combo.
Donna puts in lots of work at the gym and enjoys doing boxing sessions.
---
Donna D'Errico has and always will be *the* swimsuit queen. She's held the title since her days on Baywatch. Who could forget this iconic blonde bombshell in her bright red lifeguard swimsuit? It's been a minute since she was running around on the beach, but Donna's proving to everyone that she is still as strong, confident, and toned as ever in a birthday Instagram post.
Donna celebrated her big 55th birthday in style, complete a Baywatch-style swimsuit (which was only half on), and a cropped T-shirt that showed off her super strong abs and a peek of underboob. If you haven't seen the pic yet, here is the evidence:
"Posting some cake 🎂 on my birthday because I said I would, because I feel like it, and because why not. Have fun today everyone. I certainly will! I love you all! ❤️❤️❤️ #linkinbio," she captioned the photo. Everyone literally freaked out.
"Happy Birthday to you, Donna! Aways so gorgeous! ❤️❤️," commented on fan. Another added, "🔥 what more can be said…" And I would have to agree.
Donna puts some serious work in to stay so strong, and that apparently includes lots of boxing classes. Donna works with her trainer Ayhan Tongadur at the beach, where the two do boxing and "fight training." Both of these exercises are super great ways to get in some low-impact cardio, while also providing all-over give tone, especially with all those cross and hooks! Hello, obliques.
She also works with trainer Spencer Brown at Royal Personal Training (and shares BTS content from their workouts together). The two do more toning and strength work at the gym that target Donna's glutes and legs. A session might include exercises like bodyweight donkey kicks. Case in point:
When it comes to her diet, Donna has said that she's a vegan, and has been since she saw what really happens at animal factory farms, she told Fox News. While Donna has pointed out that her diet has made her skin clearer and improved her energy levels, she really does it for the animals.
This content is imported from poll. You may be able to find the same content in another format, or you may be able to find more information, at their web site.
Keep shining, Donna! And happy, happy birthday.
Woman's health Lettermark logo
Jacqueline Tempera is an award-winning writer and reporter living in New Jersey with her many pets. She is a business owner and a double Scorpio who loves all things astrology and reality television. She is passionate about body diversity and representation, mental health, and the fight to end sexual assault and harassment. To learn more about Jackie, follow her on Instagram @jacktemp or visit her website at jackietempera.com.
(Original story posted by Women's Health)
Download the Slim Fitness app for more -> slimfitnessapp.com/download