Sydney Sweeney's *Beyond* Sculpted Booty In This Bikini Pic Is Legit 🔥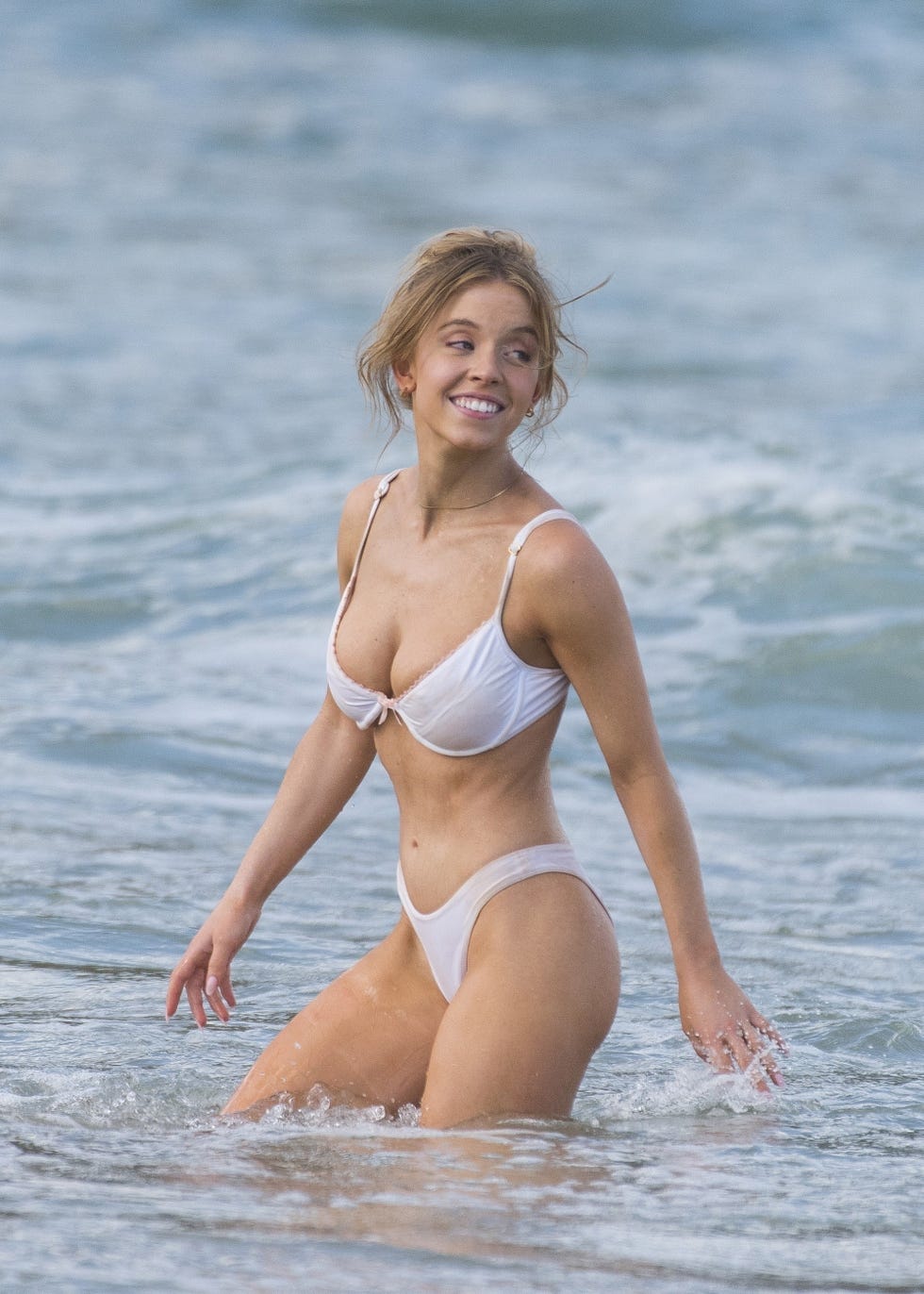 #fitgirl #womenshealth #girlswholift #fitness #fitmom
Sydney Sweeney is in Australia filming a new project, and paparazzi caught a peek of the actress while she frolicked in the ocean.
Sydney sported a white bikini that showed off her super strong abs and toned booty.
The star has done mixed martial arts training for a long time, and likes to get outside for walks with her dog.
---
Winter? Sydney Sweeney really and truly doesn't know her. The Euphoria actress, 25, has been way too busy playing around in the ocean to notice how cold it's been this March. Case in point: Sydney was recently captured on camera in Australia filming a new project. In the paparazzi pics, she was rocking the most adorable white bikini while taking a dip in the ocean. Of course, the cute suit highlighted her super toned abs and booty. TL;DR, Syd looks amazingly strong, glowy, and happy.
In case you haven't seen the beachy moment yet, here's one of the photos a pap snapped:
This is hardly Sydney's first fab moment in a bikini lately. In fact, the White Lotus star is collabing with Frankies Bikinis on a new line, and recently shared how comfortable she is in swimwear."I grew up on the water, always running around in a bikini. If I wasn't swimming in the lake or the ocean, I was skiing or attempting to surf," she told ELLE.
She also shared snaps of herself on IG modeling some of the suits from the line, which drops on March 14.
If you're curious to know more about Sydney's workout routine, you've come to the right place. One way this star works her abs and booty is by doing mixed martial arts (MMA). "I started when I was 14 and did my first competition at 18. Those guys were probably saying, 'Oh, we didn't want to hurt her,' but they were definitely trying. Everyone broke a sweat!" she shared with Marie Claire.
Syd also gets in some good cardio walking her dog outside. "I try to take my dog on a walk twice a day. We'll do a 2-mile walk in the morning and again at night if I can," she shared with Bustle.
As for Sydney's diet, she loves to start her day with fresh berries and toast. "Right now, I'm really into this croissant toast that I eat with cinnamon sugar and honey butter," she told Bustle. But this bikini queen isn't a fan of ye olde morning caffeine fix. "I have never even tried coffee. I only drink water—for whatever reason, when I was like, 12, I decided I would only drink water and I just stuck with it. I love water, it's my thing."
This content is imported from poll. You may be able to find the same content in another format, or you may be able to find more information, at their web site.
Sydney also has a sweet tooth, and seemed to be enjoying some delicious gelato, meatballs and pasta on a recent trip in Rome, Italy.
I love it, Sydney!
Emily Shiffer is a former digital web producer for Men's Health and Prevention, and is currently a freelancer writer specializing in health, weight loss, and fitness. She is currently based in Pennsylvania and loves all things antiques, cilantro, and American history.
Download the Slim Fitness app for more -> slimfitnessapp.com/download