Dua Lipa's Butt Is 💯 In A Thong And Backless Dress In New Years' IG Pics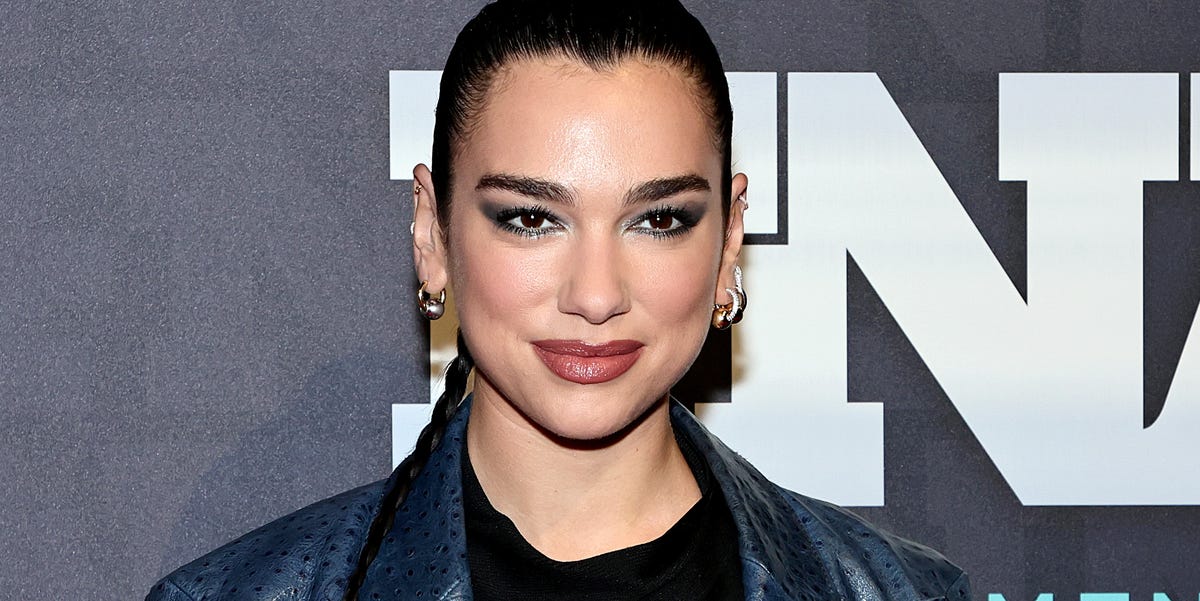 #fitgirl #womenshealth #girlswholift #fitness #fitmom
Dua Lipa is celebrating 2023 with a serious style moment, and a peek of toned booty and long, sculpted legs in a thong and backless dress.
The singer, 27, posed for some pics in the glittery outfit, and the whole thing highlighted how strong she is these days.
Dua is a big yoga and likes to do HIIT workouts early in the a.m.
---
Everyone's favorite it-girl Dua Lipa showed some serious New Year's 'fit inspo with her latest Instagram drop. And if fans are to take a page out of Dua's book—2023 is all about glitter, low backs, exposed thongs, and high ponytails.
Dua, 27, dropped some photos from her end-of-year bash, and the fashion moment was truly unmatched.
The singer wore a glittery halter mini dress (of the Paris Hilton variety) and a pair of knee-high pink boots. She paired the look with sparkly earrings, a few bracelets, and a cocktail glass. The real icing on the cake, however, was the exposed thong by Pretties placed over her perfectly toned peach. Brava, Dua!
"🏹🤍2023 ~ Happy New Year ~ wishing you peace, love, health and happiness for this year ahead x," she captioned the post, which was, unsurprisingly, a huge hit with her followers. They were quick to wish her a happy 2023. Even Paris Hilton commented, saying, "That's hot🔥😉."
Ludovic de Saint Sernin, the designer of the dress which was made out of entirely Swavroski Crystals, wrote "Happy New Year to my Crystalised Little Mermaid 🧜🏻‍♀️ ILYSM! And I can't wait to see what 2023 has in store for us and for everyone! ✨🌊🐚🌞."
Of course, Dua was super-toned all over in this outfit, from her arms to her legs. But the peek of her sculpted booty was the star of the show. In fact, Dua's been all in on the strong fashion looks this year, from this iconic menswear moment…
To her white, abs-bearing bralette set from Jingle Ball…
And absolutely every look from the Future Nostalgia tour. Dua has definitely had a great year.
While she's flying around the world, popping up at festivals, fashion shows, and all the best parties, Dua makes time for her physical health and wellness, too. For one, she's a big fan of yoga, and her practice is pretty intense, as evidenced by this impressive handstand:
She likes to get her workouts in early, and often starts her day with a 15-minute sweat session—whether that's a HIIT workout, Pilates, yoga, or strength training to start the day on a strong note, she told Refinery29.
Sora Connor, who has been Dua's trainer for the last three years, gave Women's Health the scoop on Dua's routine. "We always work the entire body," Sora said. "Sometimes it's more core-focused, other times its glutes. The main objective is to work the muscles so that they become strong and toned but the focus is on creating a long, lean line."
This content is imported from poll. You may be able to find the same content in another format, or you may be able to find more information, at their web site.
Well, I'd say mission accomplished. Everyone is looking forward to more gorgeous gowns from Dua this year.
Jacqueline Tempera is an award-winning writer and reporter living in New Jersey with her many pets. She is a business owner and a double Scorpio who loves all things astrology and reality television. She is passionate about body diversity and representation, mental health, and the fight to end sexual assault and harassment. To learn more about Jackie, follow her on Instagram @jacktemp or visit her website at jackietempera.com. 
Download the Slim Fitness app for more -> slimfitnessapp.com/download