Chrissy Teigen Flashes Her Post-Baby Abs In A Series Of 🔥🔥🔥 Photos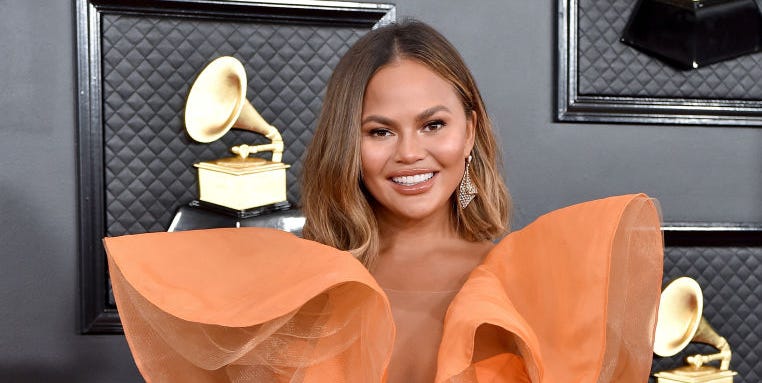 #fitgirl #womenshealth #girlswholift #fitness #fitmom
Chrissy Teigen, 37, was out and about in Los Angeles showing off her abs in a bra top, posting the pics on March 22.

She recently welcomed her third baby with John Legend in January 2023.
The model enjoys living a "balanced" life with fitness and enjoys yoga and pilates.
---
Recently having her third child hasn't stopped Chrissy Teigen from going out and looking absolutely gorgeous in Los Angeles.
The 37-year-old model looked so strong while having a nice family outing at Ellie Julie, an L.A.-based Korean street food restaurant, which she posted the pictures of on Instagram on March 22. There were three different photos of the outing (where she wore all black): a bra top, skirt with a slit, peacoat, leather boots, and a baseball cap. (I personally loved this fit.)
In the first photo, Chrissy's posing at the restaurant's counter to give a first look at the outfit, and in the second, she's standing outdoors, giving a foot pop, showing off the tornado fries she got at Ellie Julie. (Yum!) But in the third and final photo, she's standing again at the counter, showing off her abs and a peek of her legs from the skirt's slit. Clearly, John Legend took this photo of her smiling and glowing with her two children, Luna, 6, and Miles, 4. So cute!
Like I said, she's recently become a third-time mom, giving birth to Esti Maxine Stephens around January 19, 2023, which is when she first posted pics of the new baby to her Instagram. Leading up to Chrissy's due date, she had been calling this baby their "rainbow baby" along with John, after their devastating pregnancy loss in 2020.
When it comes to her fitness and diet, Chrissy's all about balance. In fact, she sometimes takes breaks between intense months. "Sometimes I'll go two months without working out and them my trainer will be like, 'What the hell, get your ass back here!' she told PEOPLE in 2020. "And then I go really hard."
She's more low-key about working out, but it's clear that her hard work has paid off: "I'm not that type of person, I just don't Instagram myself at the gym or making green juice," she told the outlet.
Chrissy was training with Simone De La Rue, who does dance-based workouts and had been working with her for three or four years as of 2018, according to Business Insider. "We do more laughing than working out, to be honest," she revealed. "She's a hilarious person and I like having a giggle with her."
This content is imported from poll. You may be able to find the same content in another format, or you may be able to find more information, at their web site.
As for what she eats, she's "thrown all of that" dieting culture "out the window," she told PEOPLE in 2021. "I've spent way too many years counting calories, scheduling way too many workouts and trying to figure out what my term for wellness was for myself," she continued. "I eat things when I want them."
For overall wellness, she loves indulging in sound baths, meditating, and yoga and pilates. It certainly shows how content, peaceful, and balanced she looks—you go, Chrissy!
Addison Aloian (she/her) is an editorial assistant at Women's Health. When she's not writing about all things pop culture, health, beauty, and fashion, she loves hitting leg day at the gym, shopping at Trader Joe's, and watching whichever hockey game is on TV. Her work has also appeared in Allure, StyleCaster, L'Officiel USA, V Magazine, and Modern Luxury Media. 
Download the Slim Fitness app for more -> slimfitnessapp.com/download