Camila Cabello's Abs = 🔥 In A Barely-There, Beaded Bra Top In IG Photos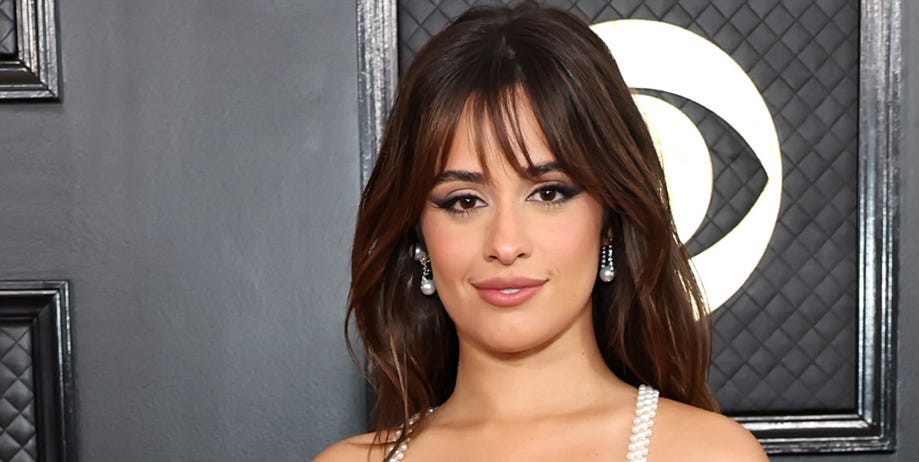 #fitgirl #womenshealth #girlswholift #fitness #fitmom
Camila Cabello brought down the house at the Grammy Awards red carpet this past weekend.
The star, 25, donned a sleek barely-there bra top and high-slit skirt combo that showed off how ultra-strong she is, from her peek of abs to her legs.
Camila has worked out with celeb trainer Jenna Willis and has been known to crush an outdoor workout.
---
Camila Cabello brought the heat to the Grammys on Sunday while wearing a barely-there bra top and high-slit dress. The Havana singer rocked the Pat Bo dress as she posed on the red carpet, and the look showed off how strong and confident the singer is these days.
The dress featured what looked to be a handmade pearl bra top that showed off a peek of her strong core. The top, which matched her pearl earrings, naturally, was sewn into a black skirt with a thigh-high slit that showed off Camila's strong legs.
"in my free time i love to get nominated for Grammys, practice my speech in the shower, then lose but look amazing," Camila captioned a video of herself from the red carpet. And of course, Camila's friends and fans ~loved~ the look.
"You are the real winner," wrote one follower. Another added, "You didn't lose the Grammy, the Grammy lost you." A third person wrote, "W still 💎." I like this perspective shift.
Here she is on the Grammys GlamBot:
For the past few years, Camila has been working with celebrity trainer Jenna Willis. But when they're not doing one-on-one sessions, Camila does her workouts in the fresh air. She enjoys running, paddle boarding, and hiking. And the star is always up for a challenge. Example A: This Tough Mudder 5k, which she tackled with a few friends.
When it comes to her diet, Camila credits her healthy eating habits to the influence of her ex-boyfriend and long-time friend Shawn Mendez. "I was not healthy at all before. I never ate vegetables before. Just like easy vegetables like cucumbers or cold carrots with Caesar. Which I wouldn't say are hard vegetables," she said, per Hola.
Camila is also tackling (and talking about) mental health issues these days, especially within the Latinx community. She shared some of her thoughts with Rolling Stone, saying, "It's life-saving to talk about it."
The star added that working on her third album, Familia, helped her work on her vulnerability and willingness to open up about certain things she was struggling with. "I just tapped into really being vulnerable and really being honest," she explained.
This content is imported from poll. You may be able to find the same content in another format, or you may be able to find more information, at their web site.
Love to see you happy and healthy, Camila!
Jacqueline Tempera is an award-winning writer and reporter living in New Jersey with her many pets. She is a business owner and a double Scorpio who loves all things astrology and reality television. She is passionate about body diversity and representation, mental health, and the fight to end sexual assault and harassment. To learn more about Jackie, follow her on Instagram @jacktemp or visit her website at jackietempera.com. 
Download the Slim Fitness app for more -> slimfitnessapp.com/download