Compression Socks Are *The* Answer To Your Achey Feet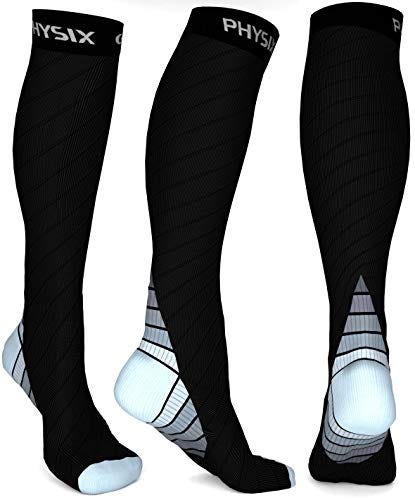 #fitgirl #womenshealth #girlswholift #fitness #fitmom
Anyone who's spent lots of time on their feet or going hard at the gym has experienced aches and pains in their legs—especially in the shins and calves. That's where compression socks come in handy, as they're designed to support you during workouts or just when you're on your feet for long periods of time. They can even prevent leg fatigue during flights, making them
"Compression socks are great for recovery because they slow blood flow to your lower legs while you're wearing them and then flood the area with fresh oxygen once you take them off, which helps with muscle recovery", says Becs Gentry, a certified run coach/trainer and instructor at Peloton.
So, if you're looking for some online shopping inspo, keep reading for the 12 best compression socks to buy, according to experts and editors who have actually tested them. Your lower legs will thank ya!
---
1. Physix Gear Sport Compression Socks
With over 42,000 positive reviews on Amazon, you can easily say that these compression socks are the best of the best. Not only do they look sleek, but they're easy to slip on and off while still providing enough pressure on your calves. They've even got segments up your heel and into your arches and toes to support areas susceptible to overuse injuries.
Compression: 20-30 mmHg
Material: 70% nylon, 30% spandex
Length: Knee-high
Rave Review: "I've had a hard time finding compression socks that don't completely cut off my circulation, but finally found a pair. I am taking a high blood pressure medicine that causes fluid to build up in my ankles. I flew from Arizona to New Orleans and walked for hours and my feet and ankles didn't swell. The socks were actually comfortable as well."
---
2. Ascend II Quarter Moderate Compression Sock

If you want socks you can put to work while you're on your feet, Sockwell's got you covered. These socks have everything your feet need to reduce fatigue—full arch support, ventilated flex zones, an ultra-light cushion sole, and more. Plus, they're moisture-wicking, so you can feel free to get your sweat on.
Editor Review: "I loved these socks—they had medium compression, so they were super comfortable, and they were really soft (especially on the bottom), so walking around barefoot felt really luxurious. I also ran and worked out in these socks, and I couldn't tell if they felt different from non-compression socks, but overall, I liked them a lot." —Addison Aloian, editorial assistant at WH
Compression: Moderate
Material: 41% merino wool, 39% stretch nylon, 14% alpaca, 6% spandex
Length: Quarter-length

---
3. Compression Socks
Gentry enjoys using Comrad socks because they're not too tight, but great for when you're still hot from a workout or in a tight space on a plane. These particular socks are a little wider at the calves, so you won't get annoyed adjusting them in tight spaces or tucking them in pants.
Compression: 15-20 mmHG
Material: Nylon and terry cloth
Length: Knee-high
Editor Review: "These medium-level compression socks (15-20 mmHg) were so easy to slip on. I didn't expect them to work. I could pull them on while holding a baby on my lap in a tiny airplane seat. They came through and my feet and ankles stayed comfy through a full travel day of flying and car and boat transfers. The light fabric didn't make me overheat in the tropical climate either. I realized how effective they were on the return trip when I forgot to put them on after boarding (big mistake) and arrived home with swollen ankles and achey feet." —Jennifer Nied, fitness editor at WH
---
4. Compression Socks
Not only are Bomba's compression socks made of high-quality, soft materials, but they also help those in need. For each pair of Bombas socks purchased, the company gives a pair to someone without the means to buy their own. Designed with a Y-stitched heel which creates a natural cap around the heel, the actual socks are super supportive and great at preventing swelling, too.
Compression: 15-20 mmHg
Material: 64% cotton, 17% polyester, 13% nylon, 6% spandex
Length: Knee-high
Editor Review: "I'm 25 weeks pregnant, and my legs and feet have started to swell. I've tried other compression socks before, but some were too long (I'm short), and others were TOO tight and would leave welts. I wore the Bombas compression socks for one long travel day (two and a half hours driving and over a two-hour train ride). Immediately, they felt way softer and more comfortable compared to other compression socks I've tried before. They were snug but didn't cut off circulation and were the correct length for my short legs. They were so comfortable that I didn't take them off for the rest of the day when I got to my destination! When I finally took the socks off that evening, my feet and legs weren't swollen. I'll keep wearing them throughout my pregnancy." —Maridel Reyes, senior deputy digital editor at WH
---
5. Open-Toe Compression Socks
Made with medical-grade nylon, these compression socks are built with calf support that reduces leg vibration possibly leading to less fatigue. The socks don't lose compression socks with each wear, so if you're into open-toe socks, this option is a great everyday wear.
Compression: 15-20 mmHg
Material: 64% cotton, 17% polyester, 13% nylon, 6% spandex
Length: Knee-high
Editor Review: "Since I have bad veins (they run in the family), I wear compression socks. So, I've tried a lot. The ones from Doc Miller Sports are the most reliable ones for me. They have the best variety in size, compression, and length (this is more important than you would think!), and they don't look medical." —Laura McLaughlin, managing editor at WH
---
6. Everyday Crew Socks
Probably the comfiest pair on this list, Pear's cute compression socks look and feel like just another pair of everyday socks. But, they're actually designed to offer 360-degree targeted compression, which improves circulation and lymph flow. The socks are also okay for those with sensitive skin, since the soft, breathable fabric is also hypoallergenic.
Editor Review: "I love my Pear Everyday Crew Socks—they're super unassuming and look like your normal sock, but they're actually so much more. They offer 360-degree targeted compression, which helps my circulation when I'm out and about on a hot day so my ankles don't swell (not cute, I know, but it happens to all of us!). They're also moisture-wicking and anti-odor, so they don't stick to your skin when you go take them off. If I'm ever stepping out for the day, these socks are always on my feet." —Lily Wohlner, associate commerce editor at WH
Compression: 10-15 mm Hg
Material: 60% polypropylene silver DryStat, 30% nylon, 10% lycra
Length: Mid-calf
---
7. Plantar Fasciitis Compression Socks
Got sore feet from plantar fasciitis? These socks target all of your sensitive areas: You'll find they fit extra snug around the achilles tendons and arches. And, yep—because of this pressure, you'll feel relief from any aches or cramping in those areas. Win!
Compression: 20-30 mmHg
Material: nylon and spandex
Length: Ankle-length
Rave Review: "I absolutely love these compression socks. I can now walk with very minimal heel pain. I can now also run on the treadmill with no pain at all. These are the best find without having to wear my orthotics."
---
8. Cushion Over-The-Calf Socks
If you're training for something like a marathon or are getting a more than average number of workouts in a week, odds are that you're at risk for getting shin splints (i.e. shin pain) from overuse and tightness. These have a simple design that molds to your legs the more that you use them, making them a good preventative care item no matter your fitness level or preferred sport.
Compression: Not provided
Material: nylon and spandex
Length: Over-the-calf
Expert Review: "I adore Nike compression socks as they are the perfect level of tightness to aid my recovery after long runs or hard speed sessions, especially when I have to sit down very soon after finishing my workout." —Gentry
---
9. Aspire Four Socks

"I'm an avid fan of Swiftwick socks, particularly the Flite XT and Aspire line. They are the perfect length and I'm always blister-free," says Latoya Shauntay Snell, HOKA One One athlete, ultrarunner, and Runner's Alliance ambassador. So, yeah—you're not gonna find other socks as good as these that'll fit right at your ankle and have a stitched Y-shape at the heel to support your feet. Plus, they're super breathable and, yes—they also have mesh bottoms for water release.
Compression: Firmest of the brand
Material: 67% nylon, 28% olefin, 5% spandex
Length: Ankle-length
Editor Review: "I wore them on a 15-hour, two-flight travel day, and my feet didn't swell or feel uncomfortable at all. I'd be curious to try a knee or mid-calf length sock next time to see if they have the same effect." —Amanda Lucci, deputy editor at WH

---
10. Merino Wool Compression Socks

These socks are thick and heavyweight, so you'll really feel the compression on your tendons, but they'll also keep you warm when temps dip. They come up knee-high to keep the cold out and are made with wool (which is naturally sweat-wicking, yet insulating).
Compression: 25-30 mmHg at the ankle, 15-20 mmHg in the middle of the calf, and 10-15 mmHg below the knee
Material: Merino wool
Length: Knee-high
Rave Review: "These socks are warm. I am in Minnesota so my feet get cold in winter, yet I do get hot from moving around the house. This sock breathes and keeps my feet dry and warm. I wanted support, cushion on the bottom of my feet, and wool to keep my feet warm. This sock has all three."
---
11. Compression Socks

If you want to enjoy the benefits of compression socks without emptying your wallet, you'll love this simple beige option with over 19,000 positive reviews on Amazon. You'll get three pairs of socks for less than *15 dollars*, and because of the neutral coloring you can wear them just about anywhere.
Compression: 15-20 mmHg
Material: 85% nylon, 15% spandex
Length: Knee-high
Rave Review: "These are my first pair(s) of compression stockings. I like how they came in a three-pack and at a great price. They are easy to put on, not too tight, and made from nice material. At only 27-years-old, I noticed some spider veins popping up. I am a nurse and on my feet 12+ hours during a shift. I need to start taking care of my feet/legs and this is the first step! About to work out with them on."
---
12. Knee-High Socks
To give you support where you need it the most, Threads' compression socks feature light graduated compression that provides support to tired and achy legs. The feet are also boarded, which adds a slight massaging effect on the soles. The socks are designed like tights, so you can pair them with your prettiest dresses and skirts.
Compression: 8-15 mmHg
Material: 88% polyamide, 12% elastane
Length: Knee-high
Editor Review: "These were very comfortable and I liked the sheerness! I wore them after a tough yoga class and definitely felt a boost in my lymphatic drainage. I would be curious to try these in different styles because they look like a classic sheer black tight." —Isabel McMahon, assistant social media editor at WH
---
How Our Team Chose The Best Compression Socks
At WH Labs, our team tests a wide range of products and services to provide our readers with reliable, honest, and trustworthy information. It's our belief that our readers deserve the best, which is why our recommendations have been thoroughly tested and vetted by our very own editors. For the past month, Women's Health editors, including our commerce editor Jasmine Gomez tested the bestselling, most popular, and top-rated compression socks. Our team consulted three medical and running experts, and then evaluated thousands of customer reviews and ratings to narrow down the 12 best compression socks for a wide range of needs and preferences.
---
How do compression socks work?
You've probably felt the relief of a snug-fitting sock before, but you don't know how the magic works. So, here's how. Compression socks are designed to gently squeeze your ankles and calves to help stimulate better blood circulation, says Patrick McEneaney, DPM, owner and CEO of Northern Illinois Foot & Ankle Specialist.
"More blood circulation means ailments can heal faster and more efficiently. These socks increase the pressure in your leg's tissue to minimize and prevent swelling." The pressure can also help prevent damage to the vein walls and valves, minimize inflammation, and prevent blood clots, he adds.
---
What should I look for in compression socks?

When it comes to buying compressions socks, you should aim for ones that are slightly snug, but not so tight that they'd cut off your circulation, explains Snell.
Another thing to note is the look of the socks and where they deliver pressure, too. "Great compression socks are segmented into small areas of the foot, as well as looser areas like around the toes and heels," Gentry notes. "Good socks shouldn't leave your lower legs or feet freezing cold if you leave them on too long, either." (You want 'em to slow the blood flow, not cut it off entirely, obvs.)
When shopping for compression socks, McEneaney recommends buying just one pair at first. "Don't buy up six pairs and then find out later that they don't fit right, or they're too big and they slide down and then they don't want to wear any brand or style. That's not helpful, so it's important to get the right size at the beginning." Once you find something comfy, go ahead and stock up.
Another thing to keep in mind is that normal medical grade compression socks are 20 to 30 mmHg, and that much compression can sometimes feel uncomfortable for people at first, says McEneaney. "Unless someone has grossly swollen calves, I usually start people at like 10 to 15 millimeters mmHg; those are half-strength." If you start there and find the compression doesn't feel strong enough, you can always bump up to something stronger.
---
Is it okay to wear them everyday?

"Generally, compression socks are fine to wear all day when you follow your doctor's advice," says McEneaney. If you're having leg, ankle, or foot issues, you should speak to a doctor to see if compression socks are in fact the solution, since there are different kinds of socks used for different kinds of ailments. It's not a one-size-fits-all kind of thing, explains McEneaney.
You should also always make sure that your compression socks are properly fitted. "If they're either too tight or too loose, they won't do their job or actually make the ailment worse by cutting off blood flow," says McEneaney. If they are too tight, they can also cause bruising, lesions on the skin, and aggravate sensitive skin, especially if you're wearing them for too long.
---
How long should I wear them for?

Because this differs from person to person, you should speak to your doctor to see what their recommendation is for how long you should wear your compression socks.
Commerce Editor
Jasmine Gomez is the Commerce Editor at Women's Health, where she cover the best product recommendations across beauty, health, lifestyle, fitness, and more. When she's not shopping for a living, she enjoys karaoke and dining out more than she cares to admit. Follow her @JazzeGomez.  
(Original story posted by Women's Health)
Download the Slim Fitness app for more -> slimfitnessapp.com/download